Israeli limits stymie Gaza rebuilding
Without a shift in the Israeli policy that doesn't allow building materials into Gaza, much of the $2.8 billion that Palestinians hope to raise at a donors' conference Monday will be limited to humanitarians needs.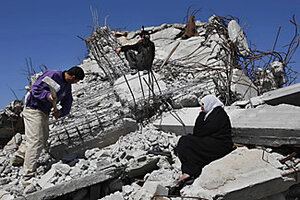 Hatem Moussa/AP
EAST JABALIYA, GAZA STRIP
Maamon Khozendar, chairman of Khozendar and Sons Company Ltd., is one of Gaza's most successful industrialists. He's a petroleum importer, and executes major construction projects around the Palestinian enclave.
What he'd most like to do now is help his fellow Gazans recover from the devastating 22-day war that came to an uncertain pause in late January. But rebuilding and rehabilitating Gaza requires the basics of the construction industry – cement and steel – that Israel will not allow in through their border crossings.
His dilemma presents a window into a core challenge faced by Palestinians and international donors as they gather in Egypt on Monday to pledge funds for postwar reconstruction.
"I have almost everything I need, except for gray cement and white cement," Mr. Khozendar says. "Without those two elements, you can't produce."
Without a substantial shift in Israel's policy, the $2.8 billion the Palestinian Authority (PA) hopes will be pledged Monday will probably not go beyond humanitarian needs. Until Israel and Hamas reach a negotiated truce, which is being worked on through Egyptian mediation, a whole range of reconstruction projects will remain theoretical.
---