Following the rockfall, Egyptian slum dwellers have little more than hope
A deadly rock slide last fall left many survivors unable to reclaim even the most meager of livelihoods.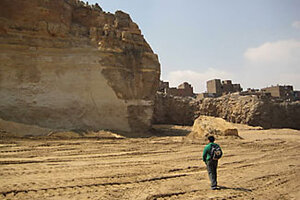 Liam Stack
A chair, a few thin mats, threadbare pillows. These are among the remnants of the 52 years that Khalaf Hussein and his wife, Hanifa Abbas, spent living in one of this city's most densely packed slums – and one of the poorest places on earth.
The couple was able to salvage only a few possessions after the Duweiga shantytown was crushed by a rockslide that sent boulders, some weighing 70 tons and bigger than buildings, cascading into the streets last September. At least 95 people were killed.
Even though the store he ran was crushed, Mr. Hussein and his family count themselves among the fortunate. One of the rocks landed just 13 feet from where he and his wife were sleeping that morning. But in the months following the disaster, the family, like many others from the slum, has slid even further down Egypt's rigid class system. They have been stymied by bureaucratic hurdles, corruption, and this country's changing attitudes toward the urban poor.
The government's handling of the disaster, say many human rights groups, illustrates that while Egypt, which has received more than $50 billion in aid from the United States since 1975, has made some progress in aiding its poorest, it is still unable – or unwilling – to improve public safety and the quality of life for scores of Egyptians living in poverty.
Life without a safety net
Egypt is a nation without much of a safety net – and when poor people are victims of natural or man-made disasters, of which Egypt has had more than its share, they are often unable to reclaim even the most meager livelihoods.
---