In Iraq, an Easter resurrection for Christian communities
Easter Sunday this year marks the return of Christians to several of Baghdad's most battered neighborhoods.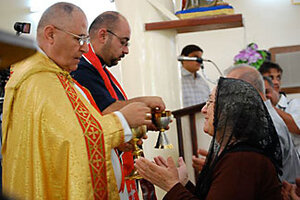 Jane Arraf
In what was once one of Baghdad's most dangerous neighborhoods, Iraqi Christians openly celebrated Easter for the first time in three years on Sunday.
In addition to honoring the resurrection of the Christ, the service in Dora also marked the resurrection of their battered community.
Dora is one of several neighborhoods in the Iraqi capital where Christians are beginning to return after being driven out by violence and extremists. A small minority in Iraq, they are estimated to make up less than 3 percent of Iraq's population today. More than 300,000 of Iraq's 800,000 Christians are believed to have left since 2003.
The faithful ventured out Sunday to reaffirm their faith in Iraqi communities which trace their roots back to the earliest days of Christianity. The majority of Iraq's Christians are Chaldeans, Eastern Rite Catholics who believe they are descended from the Babylonians. In the south Baghdad neighborhood of Dora, at the Chaldean church of St. Peter and Paul, auxiliary Bishop Shlemon Warduni of the Patriarchate of Babylon celebrated mass in Arabic and Aramaic – the language of Jesus.
It was the first time mass had been said in the church since 2007, after it was damaged and looted in fighting which raged through Dora.
"Today is Easter but we also have another reason to celebrate – in this area that was damaged and families displaced," Bishop Warduni told the congregation, which last celebrated Easter together in 2006, while gunmen from the Iraqi Ministry of Interior stood watch on the roof. "I remember this church being full and the outside field full, and the hall full of good people," he said.
---