Netanyahu caught between Obama, Israeli settlers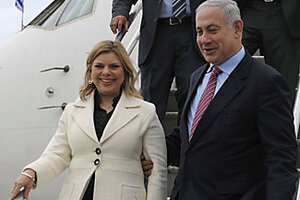 Moshe Milner/Reuters
With Israel Prime Minister Benjamin Netanyahu's White House meeting today with President Barack Obama seen by some as an historic showdown, Jewish settlers are worried.
"Bibi!" shouts a huge billboard on the back of commuter buses, a warning from one of the more uncompromising constituencies in Israeli politics. "Protect the Land of Israel... History will remember you as a strong leader who didn't surrender."
As Mr. Netanyahu makes his first trip to the US since taking office in April, his challenge is to reconcile two opposite forces at play: the right-wing members of his governing coalition and his need to have a good working relationship with the US – Israel's strongest ally.
Though the Israeli leader is known the world over as a stubborn security hawk, back home he has a reputation for becoming weak-kneed when the pressure is on – most recently over budget negotiations last week. And the pressure is likely to be on in today's meeting with Mr. Obama, whose administration has endorsed Palestinian statehood and a freeze on the expansion of Jewish settlements in the West Bank.
Gershon Baskin, the codirector of the Israel Palestine Center for Research and Information, says that while Netanyahu has not yet endorsed a two-state solution to the Israeli-Palestinian conflict, it's not out of the question.
---
Follow Stories Like This
Get the Monitor stories you care about delivered to your inbox.