Syria moves from pariah to power broker
Region sees it as a bulwark against Iran; US sees it as key to any peace deal.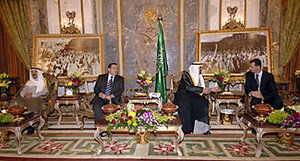 Newscom
Just a year ago, Syria was a Middle Eastern pariah, shunned and attacked by major Arab powers for its interventions and alliances across the region.
Yet in the wake of Israel's assault on Gaza and its new right-wing government – as well as divisions among Palestinian factions at reconciliation talks in Cairo and upcoming elections in Lebanon – the country is enjoying renewed influence as the region grapples with a crisis of identity and increasing Iranian influence.
Today, Syria is courted by once-hostile Arab powers that see it as a bulwark against Iran. Its regional allies are assertive and it is increasingly viewed as the standard-bearer of Arab values.
"We're happy because everyone is talking to us," says Suleiman Haddad, chairman of the Syrian parliament's Foreign Affairs Committee, voicing a widespread confidence. "Everyone in the region is now convinced that Syria never changed its position and was always in the right."
In 2008, as Syria prepared to host the Arab League summit for the first time, regional relations were in meltdown. The two major powers, Egypt and Saudi Arabia, boycotted the summit, accusing Syria of obstructing regional peace, meddling in Lebanon, and cozying up to radical forces including Iran, Lebanon's Hezbollah, and the Palestinian group Hamas.
---