Jerusalem's grand mufti: Israel wrong to block Al-Aqsa Mosque
In rare interview, Al-Aqsa Mosque's Sheikh Hussein speaks out against Israel's actions.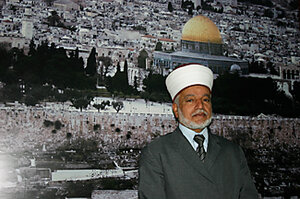 Ilene R. Prusher / The Christian Science Monitor
As grand mufti of Jerusalem and orator of the Al-Aqsa Mosque, Sheikh Mohammed Ahmad Hussein has the power to sway millions of Muslims.
But in his three years since being appointed mufti – a title that dates to the British Mandate and bestows guardianship over the Islamic holy places here – Sheikh Hussein has been relatively reserved. He chooses his words carefully, stays above the political fray, and, despite his ability to issue fatwas, has not made any Islamic rulings that have engendered controversy.
Which is why, when he now says that Israel is creating tension in the holy city and endangering the Al-Aqsa Mosque, it's a sign that things are not business as usual in the disputed capital at the heart of the Middle East conflict.
"We are always giving a message of peace, of avoiding violence, of no aggressiveness," the mufti said in a rare interview on Thursday. "But the Israeli authorities are continually taking aggressive actions and creating a situation that leads to conflict."
Sheikh: Wrong move by Israel
Most unacceptable, he says, is Israel's move last week – not for the first time – to limit access to the al-Aqsa Mosque and the Dome of the Rock complex to men over the age of 50. Israeli police say it's a temporary but necessary measure to keep out rabble-rousers looking to disturb the peace for Jewish, Christian, and Muslim worshippers seeking access to the city's elbow-to-elbow religious sites.
---