Israel calls on Gulf states to aid Palestinians
Deputy Foreign Minister Danny Ayalon said Arab countries needed to step up support. Meanwhile, Hamas test-fired a rocket that could reach Tel Aviv suburbs.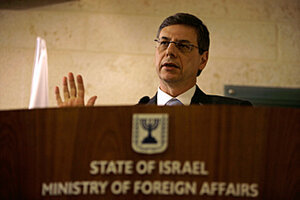 Ammar Awad/Reuters
Israel's deputy foreign minister expressed disappointment on Tuesday that Arab states were not doing more to support the Israeli-Palestinian peace process, and called on the wealthier Gulf countries to put at least $10 billion into the Palestinian economy.
"I must say we're very disappointed, because the Arab countries could do much more, first and foremost Saudi Arabia," said Minister Danny Ayalon, speaking at the Jerusalem Center for Public Affairs, a think tank. "It's been for too long that people talk, but not walk."
His comments came as Hillary Clinton, meeting with Arab leaders in Morocco, extended her Middle East tour to include a hastily arranged visit with President Hosni Mubarak and other senior Egyptian government officials in Cairo on Wednesday. Her efforts to break a deadlock in the Arab-Israeli peace process became mired in controversy when she praised as "unprecedented" an Israeli proposal to restrain settlement growth in the West Bank – a proposal that fell short of earlier US demands for a complete settlement freeze.
---