Iraq bombings: Gen. Odierno blames a changing Al Qaeda
On the second consecutive day of major suicide bombings in Iraq, top US Gen. Raymond Odierno says Al Qaeda in Iraq had changed focus in the past six months.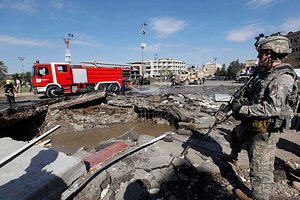 Hadi Mizban/AP
A suicide car bomb detonated outside the Interior Ministry's forensics department in Baghdad Tuesday, killing more than 18 people and severely damaging the building in the second consecutive day of high-profile attacks.
An Interior Ministry official said that in addition to those killed, at least 80 people were injured in the blast, which took place near a checkpoint close to the forensics department on al-Tahariyat Square in the Karrada neighborhood. At least five of those killed and half of those wounded were police officers injured when part of the building collapsed, he said. The explosion also sent glass and pieces of metal flying through nearby cafes. It was the third time in two years that the directorate had been bombed, he said.
Following Monday's suicide bombings of three major hotels in Baghdad, the attacks were widely seen as an escalating attempt to destablize the country ahead of key parliamentary elections in March.
The top US general in Iraq said that while there was no definitive proof, he believed Monday's attacks were conducted by Al Qaeda in Iraq (AQI) – an organization whose leaders appear to be increasingly well-educated and increasingly Iraqi, he said.
Gen. Raymond Odierno added that, since August, AQI had transformed itself from an organization dedicated to sustaining a long-term insurgency to one that was conducting clear-cut terrorist attacks aimed at destabilizing the government and weakening support for Iraqi security forces.
AQI has taken credit for a series of coordinated bombings starting in August that targeted key government institutions – among them the Foreign, Justice, and Finance ministries – with huge suicide bombs.
---