Joe Biden seeks to boost peace talks in Israel, settlements notwithstanding
US Vice President Joe Biden arrived in Israel on Monday after Israelis and Palestinians agreed to restart peace talks. But the issue of Israel settlements came to the fore again, with 112 new housing units announced for the West Bank.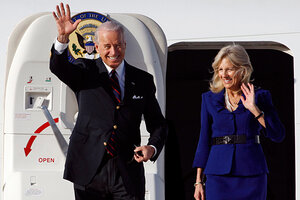 Baz Ratner/AP
US Vice President Joe Biden arrived in Israel Monday, marking a new phase of Arab-Israeli diplomacy for the Obama administration. For the first time in more than a year, Israelis and Palestinians will resume peace talks, albeit via a US mediator.
But just a day after US envoy George Mitchell got Palestinians to drop their demands for a full settlement freeze as a precondition to peace talks, Israel authorized 112 new housing units in the West Bank. Israel had promised a 10-month moratorium on new settlement construction -- excluding occupied East Jerusalem.
But its announcement Monday of the West Bank settlement construction, a day after Palestinian President Mahmoud Abbas said he would drop his objection to indirect talks over the fresh construction in East Jerusalem, underscored the settlement issue's thorny role in US attempts at progress over the past year.
"Joe Biden's visit ushers in the second act of the Obama administration on the peace process, after having failed entirely on the first act," says Gidi Grinstein, a member of the Israeli negotiations team at the Camp David peace talks in 2000. "The Obama administration has done a lot to earn the suspicion of Israelis.... Biden is faced with an uphill journey."
---