Arab neighbors cast a wary eye on Iraq election results
With the first Iraq election results coming in, Middle East countries are watching close and gauging what the vote means for their influence on the oil-rich state.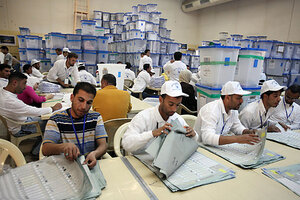 Karim Kadim/AP
As the first Iraq election results started to trickle in Thursday, many countries in the Middle East were watching closely for clues to how the outcome will shape regional dynamics.
A victory by Prime Minister Nouri al-Maliki's coalition, which initial results show leading a tight race, would likely ensure the continued presence and influence of Iran in Iraqi politics.
But majority Sunni nations are watching for a surge from Iyad Allawi's Iraqiya coalition. Mr. Allawi, a secular Shiite and former member of Saddam Hussein's Baath party, is seen as an Arab nationalist whose policies would tilt toward his Arab neighbors, rather than to Iran.
Under Mr. Hussein, Iraq was a bulwark for Arab states against the regional ambitions and influence of Iran, a Shiite regime long feared and often hated by its Sunni neighbors. Arab leaders are concerned that oil-rich Iraq could become part of an expanding sphere of Iranian influence.
---