After Iraq election, fragile democracy faces the real test
Sunday's Iraq election saw good turnout despite scattered violence. But with no party powerful enough to rule alone, the tough task of coalition building begins for the nascent democracy.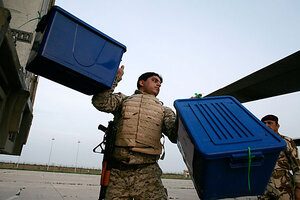 Maya Alleruzzo/AP
The Iraq election has shored up the country's fragile democracy, but the months ahead are fraught with potential dangers far more worrying than the bombs that echoed through Baghdad as voters went to the polls over the weekend.
With their second national election since Saddam Hussein was toppled behind them, Iraqi politicians' attention has turned to what sort of alliances are likely to be forged to form a new government – a process that could take well into the spring, or even early summer.
None of the parties by themselves are powerful enough to form a government. Early indications show Prime Minister Nouri al-Maliki's Rule of Law coalition leading in the south, but former premier Iyad Allawi's list coming in either second or third in each of the southern provinces.
Mr. Maliki, who heads the current Shiite-dominated government, has traditionally been strong in the Shiite south but voters across the country seem to be continuing a trend of turning away from religion-based parties in favor of coalitions they believe can offer them more basic things such as jobs and electricity.
---