Dubai assassination spotlights top cop skills in a modern-day Casablanca
Police Chief Dhahi Khalfan Tamim led the Dubai assassination investigation, using the latest tools and sleuthing skills to discover who killed Hamas official Mahmoud Abdul Raouf Mohammed.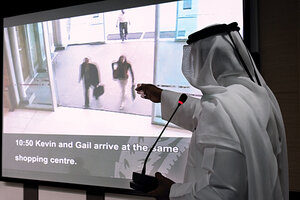 Jumana El Heloueh/Reuters
He had a few minutes to call his brother in Gaza before his flight took off from Damascus, Syria. A cousin got on the line, too, and shared gossip from the Jabalya refugee camp, say family members. He told them to jot down the name of his hotel in Dubai, United Arab Emirates. He would be there for only a few days, in case the family needed anything. If he continued on to China after, or Iran, he said, he would let them know.
Emirates Flight EK912 was packed. He traveled on a coach ticket he had bought online the day before, and without his usual two bodyguards, who were unable to book seats on the same flight. During the nearly three-hour flight, he was served lunch (chicken breast or lamb brochette, sir?) and jotted some notes in a spiral notebook.
Using a fake name and passport of Mahmoud Abdul Raouf Mohammed – he had five such aliases – the man landed at Terminal 3 of Dubai's international airport at 3:15 p.m., sailed through immigration, wheeled his black carry-on over to a waiting Toyota Land Cruiser at the taxi rank, and hopped in for a quick, five-minute drive.
---