Hamas assassination: Dubai ban on Israeli dual citizens ups pressure
The decision in Dubai to ban Israeli dual citizens is part of a calculated campaign to provoke and pressure Israel following the Hamas assassination in January.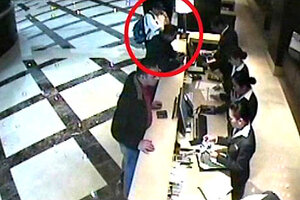 Dubai Police/Handout/Reuters
Dubai, United Arab Emirates
Dubai's decision Monday to ban Israeli dual citizens in response to the assassination here in January of a senior Hamas figure is one part security, many parts politics.
The sanction is the first by the United Arab Emirates (UAE) since Mahmoud al-Mabhouh, an alleged arms smuggler for the Palestinian Islamist group, was killed in his hotel room on Jan. 19.
In the sprawling investigation since, Dubai Police Chief Lt. Gen. Dahi Khalfan Tamim has said he is 99 percent sure that Israel's Mossad spy agency carried out the assassination, in which a 27-plus member hit squad allegedly traveled on forged European and Australian passports, drugged and suffocated Mr. Mabhouh in his hotel room, then escaped through various routes to the United States and Israel.
Pushing buttons
In recent days Tamim's regular updates on the investigation have been accompanied by angry attacks on Israel.
"Why are the Israelis transferring their problem to our land?... It's a shame. It's very bad," he says, adding that the head of Mossad should resign.
In other recent comments he has challenged Israel's top spy, Meir Dagan, to "be a man" and admit that his organization carried out the murder.
---