As US troops leave, Iraq inches toward a new government
Iraqi Prime Minister Nouri al-Maliki met Tuesday with Ayad Allawi to discuss forming a new government and decide who will be prime minister. But the main Shiite, Sunni, and Kurdish factions are still negotiating.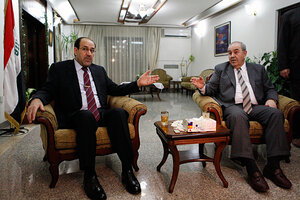 Hadi Mizban/AP
Iraq's Shiite alliance is proposing a new, more restrictive role for the prime minister. But months after Iraqis went to the polls in a pivotal national election, who that prime minister will be is uncertain. The only thing clear about the eventual new government is that it will be shaped by the sectarianism that almost everyone condemns.
"This is the bitter reality that we are talking about," says Ali al-Adeeb, a senior adviser to Iraqi Prime Minister Nouri al-Maliki, when asked whether the next government would retain the quota system in which government posts are divided among Shiites, Sunnis, and Kurds. "We also don't want to speak of it like that, but whether we want it or not, that is what it has become."
Dressed in a dark blue pinstripe suit and wingtip shoes, Mr. Adeeb explains that oppression of Shiites and Kurds under Saddam Hussein's largely Sunni regime, and the dangers from hostile Sunni neighbors, mean that the Shiite majority must remain vigilant.
"If you want to understand it you must put yourself in the place of an Iraqi," says Adeeb, who like most Shiite leaders, spent years in exile.
On Tuesday, Iraq's prime minister held a long-awaited meeting with the man who wants his job. But Mr. Maliki's Shiite alliance and Ayad Allawi's secular party seem little closer to forming a coalition government. Both claim the right to be prime minister and head a government – Maliki because his alliance formed after the election now holds a majority of seats and Mr. Allawi because his Iraqiya coalition actually won the most seats in the March vote.
---