Iran nuclear scientist Shahram Amiri arrives home. What next?
The arrival of Iran nuclear scientist Shahram Amiri, who reportedly defected to the US, closed a bizarre chapter in the 31-year US-Iran propaganda war. Now that he's home, Iranian officials are likely to ask him more probing questions.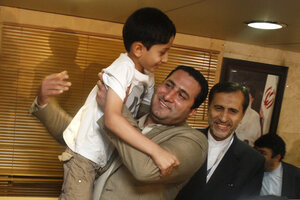 Vahid Salemi/AP Photo
Shahram Amiri, the Iranian nuclear scientist at the center of a US-Iran propaganda war, arrived to a hero's welcome in Tehran early on Thursday morning, repeating claims that he was kidnapped by US agents more than a year ago and pressured to divulge nuclear secrets.
American officials say Mr. Amiri defected of his own free will and reportedly provided useful intelligence, but missed his wife and 7-year-old son still in Iran. Upon his return home he was greeted by garlands of flowers, senior officials, and his tearful family.
Amiri's departure from the United States may end one chapter in his mysterious saga, but it will almost certainly open another chapter in Tehran. Officials will want to know more about how Amiri ended up in the US, as well as why, and what information he may have given away.
Amiri burnishes his 'kidnapped academic' story
At an airport press conference, Amiri's comments appeared to be aimed at burnishing the "kidnapped academic" story for Iranian officials – who at least in public have dismissed Amiri's nuclear knowledge as inconsequential. Iran's official media supported that version of events, portraying Amiri as a "scholar" who was ready to tell more about his 14-month "captivity" in the US.
"I have documents proving that I was not free [in the US] and could not contact anybody, and was constantly being watched by the CIA's armed agents," Amiri said at the press conference, according to a translation by the state-run PressTV.
---