Why a young Israeli woman spies on Israeli settlements in West Bank
Hagit Ofran tracks Israeli settlement growth in the West Bank with a pocket-sized camera and a deep sense of mission, often making news well beyond Israel with her findings.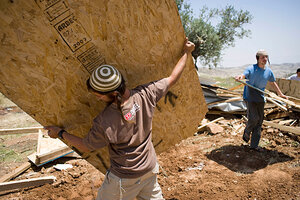 Alessio Romenzi/AP
Alon settlement, West Bank
If Palestinians ever achieve the viable state to which they aspire, they will have a determined young Israeli activist to thank for its territory not being entirely swallowed by Israeli settlements.
Hagit Ofran, a former student of Jewish history, uses a four-wheel drive vehicle, pocket-sized camera, and a deep sense of mission to monitor the growth of Israeli settlements in the West Bank area captured during the 1967 Six Day War. Sometimes her findings make headlines well beyond Israel, translating into international pressure on the government to stop further encroachment on Palestinian land.
Ms. Ofran's official title is director of the Settlement Watch Team of the dovish Peace Now organization. In practice, she is a spy operating in hostile territory, snooping, sniffing, and piecing together bits of intelligence to gauge how much illicit building is going on.
IN PICTURES: Israeli settlements
On a recent scouting trip, Ofran spotted four new alabaster trailers spread like matchboxes on a hillside of the Alon settlement northeast of Jerusalem.
The prefabricated buildings are in effect helping to fragment the heartland of a future Palestine. ''It's not that one caravan will change the chances of Middle East peace,'' says Ofran. ''But another and another and another will determine whether we can have a two-state solution to the conflict or not.''
Fluent in Arabic – and well-versed in sleuthing
---