Rare Arab summit to forestall possible Hezbollah unrest in Lebanon
An Arab summit of the leaders of Saudi Arabia and Syria met in Beirut today for the first time in eight years amid rising concern that the Hariri assassination tribunal could indict key Hezbollah members – sparking Hezbollah unrest.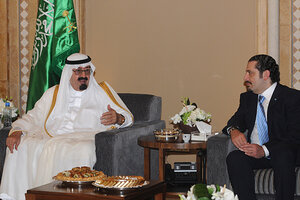 Ahmad Omar/AP
The leaders of Saudi Arabia and Syria arrived in Beirut Friday for an unprecedented summit with Lebanese President Michel Suleiman. The visit comes amid rising regional concern over the potentially explosive findings of the Special Tribunal for Lebanon.
The Netherlands-based tribunal reportedly has found evidence implicating members of Hezbollah in the truck bomb assassination of former prime minister Rafik Hariri in February 2005.
The powerful Shiite militia has denied any involvement in the assassination. But if indictments are issued in the coming months as is widely expected, it will cause at the very least a major political crisis. Worse, it could spark outbursts of sectarian violence, analysts say.
"The rapid rush of kings and presidents to Lebanon confirms that this is a very serious development," says Paul Salem, director of the Carnegie Endowment's Middle East Center in Beirut. "The scenario that Hezbollah is implicated is the worst-case scenario. It raises problems at every level."
Strategizing about how to contain potential fallout
---