Hamas attacks: A bid to scuttle direct talks?
The mood is tense in Gaza after Israeli airstrikes in response to Palestinian rocket attacks injured scores and killed a top Hamas commander. Analysts say Hamas launched the attacks to scuttle direct peace talks.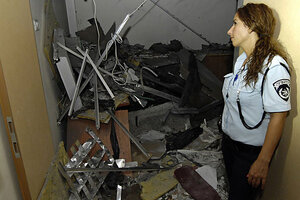 Amir Cohen/Reuters
Israel and forces loyal to the militant Hamas government that controls Gaza exchanged fire this weekend, with Palestinian rockets hitting southern Israel and Israel responding with multiple airstrikes across the territory.
On Friday, Palestinian rockets damaged a building in the Israeli city of Ashkelon. Israel retaliated with airstrikes against densely populated areas of Gaza City and Rafah, injuring scores and killing Hamas military commander Eissa al Batran.
On Sunday, a Palestinian Qassam rocket damaged a building in the town of Sderot and Israel responded with airstrikes against targets in Rafah and Khan Younes, injuring one.
IN PICTURES: Israeli settlements
Each tit-for-tat attack raises concerns of an escalation in violence between the two sides, but analysts say the rocket attacks were an attempt by Hamas to scuttle direct talks that President Obama's administration has been increasing pressure on the Palestinians to accept.
---