BlackBerry ban: Is UAE trying to crack down on Dubai's wild ways?
BlackBerry ban coming to the UAE is intended to improve security after Dubai's 'Wild West' ways came under scrutiny after a brash assassination earlier this year.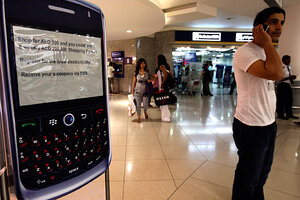 Mosab Omar/Reuters
United Arab Emirates "crackberry" addicts bracing for inevitably long and hard pangs of withdrawal if the impending BlackBerry ban goes into effect may take solace knowing that the suspension is likely more posturing than an official policy.

"The UAE is a pretty pragmatic country in a lot of ways. I think this is probably a negotiating stance," says Jim Krane, author of City of Gold: Dubai and the Dream of Capitalism. "I suspect it will be solved probably within a few days or weeks."

Citing security concerns, UAE government officials said on Sunday they would suspend BlackBerry services like e-mail and messaging in October. Saudi Arabia has indicated that it will likely follow suit as well. BlackBerrys use an encryption system that keeps the data safe, and consequently makes it difficult for governments to monitor.

With a relatively small security force, the UAE relies heavily on electronic eavesdropping to monitor for any potentially subversive activities. The Gulf nation has been particularly on edge after a Hamas leader was assassinated in Dubai earlier this year – a plot the Dubai police blamed on Mossad, Israel's spy agency. The suspects were able to leave the country before authorities knew their identities.
Privacy concerns vs. security
Although privacy rights advocates have accused the UAE of wanting to increase censorship restrictions, Mr. Krane says security is likely their primary concern.
---