Why Israeli-Palestinian conflicts over land turn epic
The importance of place to Jewish and Muslim identity intensifies Israeli-Palestinian conflicts over land, as illustrated by the disputed construction of a museum affiliated with the Simon Wiesenthal Center on Jerusalem's Mamilla cemetery.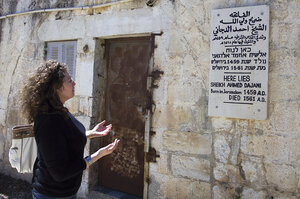 Omar Kasrawi
Standing outside a mausoleum in Jerusalem's Mamilla cemetery, Rawan Dajani bows her head and cups her hands upward in prayer for her ancestor Sheikh Ahmed Dajani. He was buried in Mamilla, the oldest Muslim burial ground in Jerusalem, nearly half a millennium ago.
About 200 meters away, a fenced-off construction zone marks the future site of the Center for Human Dignity – Museum of Tolerance, a project overseen by the California-based Simon Wiesenthal Center.
In Israel, starting a new project inevitably means bumping into history. In this case, the construction that started in 2004 has stirred Muslim anger as it displaces hundreds of Muslim graves dating as far back as the 7th century, including the remains of soldiers and officials of the Muslim ruler Saladin.
IN PICTURES: Israeli settlements
Wiesenthal officials say they have followed every recommendation of the Israel Antiquities Authority, which is in charge of "salvage excavations," and point out that Muslim authorities in the 1920s had approved building on the plot.
---