Palestinians see danger for Abbas in resumed Israel peace talks
Middle East peace talks between Israelis and Palestinians may resume in September. Palestinians warn it could be 'political suicide' for Palestinian Authority President Mahmoud Abbas.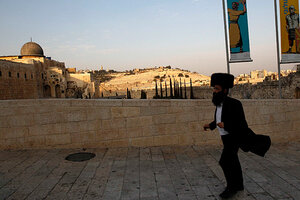 Ronen Zvulun/Reuters
There was little for Palestinians to be upbeat about Friday as they waited for an official invitation to join Israel at resumed direct peace talks to be hosted by President Obama on Sept. 2.
The so-called Middle East Quartet of the European Union, United Nations, United States, and Russia that act as Israel-Palestine peace mediators issued a statement Friday in which they reaffirmed "their strong support for direct negotiations between the Israelis and the Palestinians to resolve all final status issues" that should "lead to a settlement, negotiated between the parties, that ends the occupation which began in 1967 and results in the emergence of an independent, democratic, and viable Palestinian state... which can be completed within one year."
If Palestinians agree to attend, it will be the first such negotiations in a year and a half. Chief Palestinian negotiator Saab Erekat told Reuters that the statement was a positive step but he didn't comment on the invitation to resume talks on Sept. 2.
"The most important thing now is to see to it that the Israeli government refrains from settlement activities, incursions, fait accomplis policies," he said.
---