On eve of Israeli-Palestinian talks, Netanyahu reassures his jittery party
With Israeli-Palestinian peace talks set to resume Sept. 2, Netanyahu may face rebellion in his Likud party over extending Israel's settlement freeze.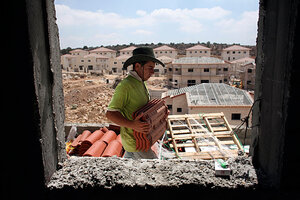 Nir Elias/Reuters
Hours before departing for the US to renew Israeli-Palestinian peace talks Tuesday morning, Prime Minister Benjamin Netanyahu appeared at a gathering of Likud party faithful to calm supporters fretting about possible new concessions over settlement expansion.
"I can tell you, you don't have to be worried," Mr. Netanyahu said Monday night at a Tel Aviv conference hall at a gathering to celebrate the upcoming Jewish new year. "No one can teach me or my friends about the love for the Land of Israel."
The Sept. 2 talks in Washington will mark the first direct negotiations since the end of 2008. The Israeli prime minister was responding to rising calls from his political base to resist US and Palestinian pressure to extend a 10-month settlement freeze that expires Sept. 26.
IN PICTURES: Israeli settlements
Palestinians have threatened to pull out of talks if Israel continues building in the West Bank, saying such expansion eats away at the territory they want for a future state, is a sign of bad faith, and undermines public confidence in negotiations.
---