Why Iran suspended woman's stoning sentence
Iran suspended the stoning sentence for a woman convicted of adultery amid mounting international pressure, including the European Parliament's 658-1 resolution against such punishment.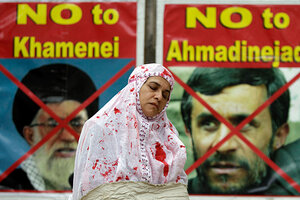 Lefteris Pitarakis/AP
Caving in to growing international criticism, Iran on Wednesday suspended a woman's death-by-stoning sentence.
European leaders and Western activists had sought to prevent the execution of Sakineh Mohammadi Ashtiani, convicted of adultery, in a mounting war of words with Iranian hard-liners – including one who called French first lady Carla Bruni-Sarkozy a "prostitute" who deserved to be killed after she advocated on the woman's behalf.
"The verdict regarding the extramarital affairs has stopped and it's being reviewed," Foreign Ministry spokesman Ramin Mehmanparast told Iran's state-run PressTV. He said a separate murder charge was "being investigated for the final verdict to be issued."
Subsequent PressTV newscasts quoted Mr. Memanparast denying reports that Ms. Ashtiani had received 99 lashes as "absolutely wrong" and conjured up by the Western media "to give it this emotional sense, to stir up people's emotions."
"It means that international pressure has begun to tell, and finally they have begun to realize the negative fallout from this is much, much greater than efforts to prove the authenticity of Islamic justice," says Anoushiravan Ehteshami, an Iran specialist at Durham University in England.
The European Parliament passed a resolution 658-1 Wednesday saying that a stoning punishment "can never be justified or accepted." On Tuesday, European Commission President Jose Manuel Barroso said the sentence was "barbaric beyond words," with "no justification under any moral or religious code."
---
Follow Stories Like This
Get the Monitor stories you care about delivered to your inbox.