Israel-Palestinian talks end without settlement deal: What happens next?
US Secretary of State Hillary Clinton and US envoy George Mitchell hopped on planes to seek the support of regional leaders, with only two weeks before the Israeli settlement freeze expires.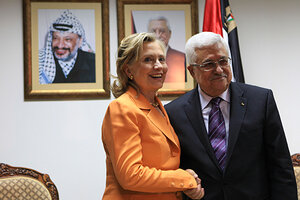 Fadi Arouri/AP
US Secretary of State Hillary Clinton left the Middle East on Thursday with no sign of a breakthrough in Israeli-Palestinian peace talks, despite three days of intensive mediation. The key sticking point is an unresolved dispute over Israeli settlement expansion in the West Bank.
Only two weeks remain before Israel's settlement freeze expires. With Palestinians threatening to quit the talks if construction resumes, negotiators have a fast-closing window – one filled with a cluster of Jewish holidays – to come up with an end game.
"The clock is ticking,'' says Alon Liel, a former director general of the Israeli foreign ministry. "They will put enormous pressure on Israel for a full freeze, and then say to the Palestinians, if we get you 80 or 90 percent, you don't complain.''
Clinton, Mitchell visit regional leaders
Mrs. Clinton held a one-hour meeting Thursday morning with Palestinian Authority President Mahmoud Abbas at his headquarters here before driving to Jordan for a meeting with King Abdullah.
"I know these are difficult times, circumstances are difficult,'' Mr. Abbas said in a brief remark before the meeting.
US peace envoy George Mitchell traveled to Syria on Thursday to update President Bashar al-Assad on the peace talks. Mr. Liel says he believes the visit was timed as a warning to Abbas that if he decides to abandon the peace talks, the Palestinians will be sidelined in favor of negotiations between Israel and Syria.
---