Israeli principal summoned over history textbook that adds Palestinian view
Israel's Education Ministry has called in the principal of Shaar Hanegev high school, which is using a banned textbook that explains both narratives of the Israeli-Palestinian conflict.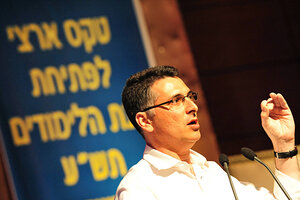 Newscom/File
Israel's Education Ministry is locked in a row with a liberal high school over its use of a history textbook that gives both the Israeli and Palestinian versions of the Arab-Israeli conflict.

The ministry has summoned the principal of Shaar Hanegev high school in southern Israel for "consultations" over the decision to continue using the textbook, which has been banned from the national school curriculum.
Critics denounced the move as a regressive step by Israeli Prime Minister Benjamin Netanyahu's right-leaning government to assert the Israeli narrative over the Palestinian one.
The row drives at the heart of Israeli identity, shaped by tales of Jewish heroism in the War of Independence that gloss over the fate of the Palestinians. The Israeli narrative asserts that Palestinians left their homes in what is now Israel of their own volition. The Palestinians contend that they were driven out, and they refer to the creation of Israel as the nakba, or the catastrophe.
BANNED BOOKS: 5 books almost anyone might want to burn
"We have a problem with the Palestinian nakba," says Tom Segev, a prominent Israeli historian. "Instead of just teaching it and telling kids what happened, we keep trying to ignore it, distort it. It reflects our guilt. We don't know how to deal with it."
Under current education minister Gideon Saar, Israel has also struck the word nakba from a textbook for Israeli Arab children, arguing that the government should not promote a term that questions the legitimacy of the state.
---