Did militant Israeli settlers burn mosque near Bethlehem?
Many Israelis suspect militant Israeli settlers, seeking to incite religious violence and undermine peace negotiations, attacked a Palestinian mosque near Bethlehem.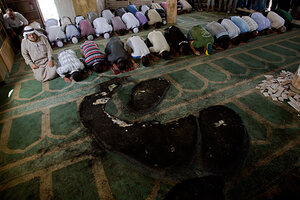 Bernat Armangue/AP
Israel is worried that Jewish militants torched a West Bank mosque overnight Monday in a bid to undermine peace negotiations with the Palestinians.
A mosque in the Palestinian village of Beit Fajar, just south of Bethlehem, became the fourth in the last two years to be the target of an arson attempt, according to human rights workers. The attack is believed to be part of a campaign by vigilante settlers to ignite violence by attacking Muslim holy sites.
"Whoever did this is a terrorist in every sense of the word, and intended to hurt the chances for peace and dialogue with the Palestinians,'' said Israeli Defense Minister Ehud Barak in a statement. "This was a shameful act that besmirched the State of Israel and its value."
Perpetrators of previous attacks against mosques have left behind in Hebrew graffiti the words "price tag," referring to a policy of using violence against Palestinians and Israeli security forces in retaliation for outpost evacuations and militant attacks on settlers.
---