Iran says US hikers will go on trial Nov. 6
Iran accuses the three US hikers of spying, an offense punishable by death. Sarah Shourd was released on bail in September, but Josh Fattal and Shane Bauer have now been held longer than the 1979 US Embassy hostages.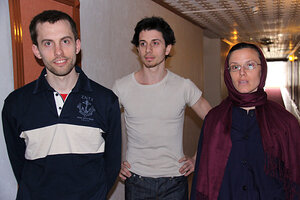 Press TV/AP
Iran has set a date to put three American citizens on trial for espionage, in a case that has been steeped in politics for more than a year and is to begin in Tehran on Nov. 6.
Two of the Americans – Josh Fattal and Shane Bauer – remain in Evin Prison in Tehran, where they have been since they were arrested along the northern reaches of the Iran-Iraq in July 2009.
The third, Sarah Shourd, was released on bail of around $500,000, facilitated by Oman, and allowed to leave Iran last month on health grounds.
The three Americans and their families say they were tourists hiking in the scenic but largely unmarked border area when they were arrested by Iranian security forces.
Upon arrival back in the US, Ms. Shourd said the three were "innocent" of any charges, and called for the speedy release of her two comrades. Under Iranian law, espionage can be punished by execution.
President Mahmoud Ahmadinejad has often suggested that the freedom of the three could be made in exchange for a number of Iranian nationals currently held on host of charges in the United States.
---
Follow Stories Like This
Get the Monitor stories you care about delivered to your inbox.