After Baghdad bombings, Iraqis have harsh words for security forces
'The politicians are fighting each other instead of the terrorists,' says a Baghdad shopkeeper, reflecting widespread doubt the government will prevent further Baghdad bombings.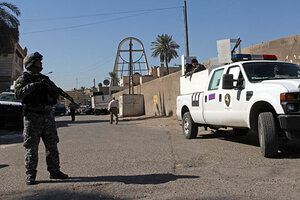 Khalid Mohammed/AP
Security in the Iraqi capital was heightened and city streets almost empty Wednesday as many Iraqis stayed home after a series of bombings sparked fears that security forces are overwhelmed by the violence.
The coordinated bombings, which came two days after a major attack on a Baghdad church, seemed designed to demonstrate that Al Qaeda in Iraq and other insurgent groups still have a significant presence in the capital. Sixteen car bombs and road-side bombs detonated across the city on Tuesday evening, prompting the government to declare a security alert and impose snap bans on vehicles.
It also added pressure on squabbling political leaders to form a new government and restore public confidence almost eight months after Iraqis voted in national elections. Parliament, ordered by Iraq's highest court to get back to work, is scheduled to reconvene on Monday.
RELATED: Five reasons it will be hard for Yemen to 'destroy' Al Qaeda franchise
"The politicians are fighting each other instead of the terrorists," says Amar Ali at his shop in the central Karada district. "The security forces are not in control. If they can do this to the security situation, these people are capable of making the government fail," he says referring to the wave of attacks.
Al Qaeda vows a spate of attacks against Christians
More than 70 people were killed and 250 wounded in the blasts on Tuesday. At least 58 people, most of them attending mass, were killed and 75 wounded after a team of gunmen stormed the Catholic church and Iraqi special forces attempted a rescue Sunday. The church, Our Lady of Salvation, is one of several in the mixed middle-class neighborhood of Karada.
---