Israeli-Palestinian clashes over olive groves feed distrust
With Israeli-Palestinian peace negotiations in limbo, a feud is escalating between Jewish settlers and Palestinian villagers over olive trees – and the land in which they're rooted.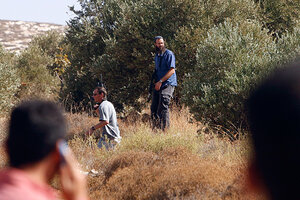 Abed Omar Qusini/Reuters
When the olive harvest began in the West Bank this fall, Ibrahim Salah found his 200 trees already stripped of their fruit by someone else. Days later, about one-fourth of the trees were set ablaze.
Mr. Salah and other residents of the tiny Palestinian farming village of Farata say those responsible came from Havat Gilad, an unauthorized Israeli settler outpost whose mobile homes are located close by to the olive trees. A spokesman from Havat Gilad, a collection of mobile homes scattered across several hilltops near the northern West Bank city of Nablus, denied the charges of arson, but said settlers there would harvest trees to which they claim ownership.
"[The settlers] want us to despair and abandon the land,'' Salah says. "Then they will take it. But until I die, I will go there.''
With Israeli-Palestinian peace negotiations in limbo since late September, the vacuum is being filled by an escalating land feud between Jewish settlers and Palestinian villagers over trees. The olive confrontations come amid growing allegations of a vigilante campaign by extremist settlers against other Palestinian targets. At stake are the livelihood of West Bank villagers and overall Palestinian confidence in the peace process.
Israeli Prime Minister Benjamin Netanyahu's appears set to approve a three-month settlement freeze aimed at generating fresh momentum for the peace process. But the move is strongly opposed by right-wing settlers, who see a freeze as a prelude to permanent withdrawal.
---