Netanyahu strikes a deal on Israeli settlements – could it freeze peace, too?
Prime Minister Benjamin Netanyahu appears set to push through a temporary Israeli settlement freeze in exchange for $3 billion in US military aid.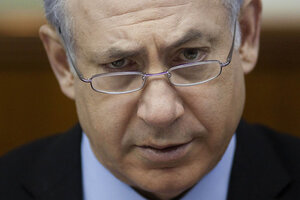 Uriel Sinai/AP Photo/Pool
Israeli Prime Minister Benjamin Netanyahu, long caught between intensifying US demands and the restlessness of his right-wing allies, appears to have struck a deal to delay Israeli settlement expansion without unsettling his government.
But far less certain is whether the delay will accomplish its stated purpose: luring the Palestinians back to peace talks.
Mr. Netanyahu's security cabinet is expected to narrowly approve a three-month Israeli settlement freeze in the West Bank, in exchange for US promises of $3 billion in military aid and a commitment not to support any United Nations resolution recognizing Palestinian sovereignty.
Despite threats from Jewish settlers and their backers in the government of an open break with Netanyahu, the prime minister's ruling coalition does not appear to be in danger.
"It is valid that he can pass [the freeze], and without his coalition being destabilized, and if his coalition is destabilized he has other options,'' says Chemi Shalev, a political commentator at the daily Yisrael Hayom. "In the short term he is in a strong position politically.''
'Netanyahu is going to have his way'
The US-Israeli package deal on the peace process was at the center of Netanyahu's seven-hour meeting last week with Secretary of State Hillary Clinton, and then at Israel's weekly cabinet meeting on Sunday.
---