Gazans shocked at how many neighbors, coworkers, officials are 'spying' for Israel
An intelligence source says that the number of Gazans arrested by Hamas for collaborating with Israel are in the 'high hundreds.'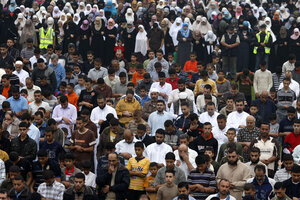 Zuma Press/Newscom
To citizens of Gaza, the Hamas government's campaign to uncover and uproot the network of collaborators with Israel has been shockingly effective.
It began with a warning: the execution of two convicted collaborators in May. Then Hamas government officials, who were convinced that a wide network of spies was undermining their government, made an unprecedented offer: a two-month amnesty campaign. Collaborators could turn themselves in and be forgiven, their identities kept secret.
When the offer expired this summer, the arrests began. Armed with the information they'd gleaned from those who'd given themselves up, security forces arrested hundreds more.
Gazans were astounded not only by the number or arrests, but by who was arrested. Prominent figures in society, including many doctors, were reportedly among those caught in the sweep. As the hunt for spies continues, Gazans say the revelation of the network's reach is eroding trust between neighbors, coworkers – even family members. It's tearing at the fabric of a close-knit society, where families, friends and neighbors often depend on each other.
"It has a really bad impact on society," says Alaa Fouad, an anesthesiologist at Shifa Hospital in Gaza City. "People start to be afraid of each other. We don't talk openly with each other, and we suspect each other."
Intelligence source: Hundreds arrested in crackdown
---