Gaza blockade over? Not according to the UN.
The UN's top representative in Gaza says building projects are being delayed because Israel is not allowing the free flow of construction materials into the territory.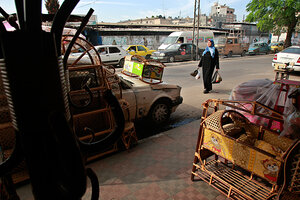 Adel Hana/AP
More than two months after Israel approved the entry of construction materials for humanitarian projects in Gaza as part of the loosening of its blockade of the coastal enclave, only a tiny fraction of the needed materials have arrived.
Projects to build schools, health clinics, housing units, and water distribution sit idle as the UN agencies administering them wait for cement, steel, and other construction materials, highlighting the lack of reconstruction progress in Gaza despite Israel's promise in June to allow such projects to go forward.
Illustrating just how far behind Gaza is, the projects in limbo are ones that were suspended in 2007 when Hamas took control of Gaza. They don't even begin to address new needs that have arisen since then from population growth, infrastructure deterioration, and the destruction from Israel's offensive in the Palestinian territory that ended in January 2009.
---