Iran, still haunted by Jundallah attacks, blames West
Iran has repeatedly declared victory over Jundallah, the Sunni and Baluch group that claimed responsibility for a suicide bombing that killed at least 39 Shiite worshipers today.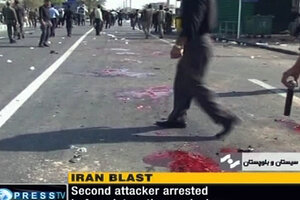 Press TV/AP
The scale of Iran's suicide bombing on Wednesday – in which at least 39 Iranian Shiite worshipers were killed and 50 injured during the penultimate day of a important religious commemoration – may have surprised Iranian security officials in the southern port city of Chabahar.
Why? Because Iranian officials have repeatedly declared victory over the group that claimed responsibility, Jundallah (Soldiers of God).
In February, Iran captured Abdolmalek Rigi, of the shadowy Sunni and ethnic Baluch militant group active in southeast Iran and executed him in June. Jundallah retaliated with today's attack, the group said in a statement accompanied by photos of the alleged attackers.
"This operation was a revenge for the hanging of the head of the movement Abdolmalek and other members of Jundallah," the statement read. "In this suicide operation…tens of [Revolutionary] Guards and mercenaries have been killed. The operation was carried out to expose the aggressors of Baluchistan."
Iranian officials claimed that security forces spotted the two bombers, and shot one before he could detonate his explosives. They said they arrested a third man, the "ringleader," and alleged that foreign spy agencies were behind the carnage.
Ali Abdollahi, Iran's deputy interior minister, said the "equipment used shows that they are terrorists supported by the intelligence services of the region and the US," in remarks reported by the state news agency IRNA.
---