Abbas invites Israeli lawmakers to lunch in Ramallah
Palestinian Authority President Mahmoud Abbas hosted a banquet yesterday to appeal directly to Israelis, the latest move in an attempt to circumvent stymied peace talks.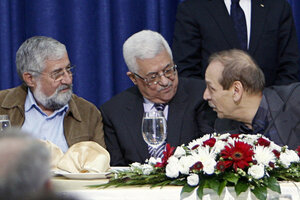 Mohamad Torokman/Reuters
Palestinian Authority President Mahmoud Abbas knows well the dangers of being branded by Israel as an unreliable partner for peace.
So yesterday, he hosted two busloads of Israeli parliament members and public figures for lunch in Ramallah. Over a four-course banquet featuring lamb, stuffed grape leaves, and Hebrew-speaking waiters, he appealed directly to the Israeli public to back a peace treaty over the status quo of steady Israeli settlement expansion.
"I cannot understand that building a settlement here and there is better than peace,'' said Mr. Abbas, a grandfather of eight who indicated he was willing to compromise on tough issues to make a deal stick. "Peace is more precious than the settlements because it is the future of our generations.''
At the event, organized by the Geneva Initiative – an Israeli-Palestinian group that has drafted its own plan for peace – Abbas said that he would allow a US-led peacekeeping force in a future Palestinian state, run under the auspices of the North Atlantic Treaty Organization (NATO), to allay Israeli security concerns.
He also expressed confidence that once the two sides agree on borders and security, negotiators would be able to find solutions for the other main items of dispute – a broad hint that he is ready to compromise on issues like Jerusalem and the status of more than 1 million Palestinian refugees who seek the right to return to family homes in Israel.
Palestinian leaders appeal directly to Israelis
---