Pop Smoke? A Marine and his fight for Iraq's $30,000 donkey.
A retired Marine colonel wants to bring Smoke the donkey from Iraq to Nebraska to work with the children of soldiers who have been killed or wounded.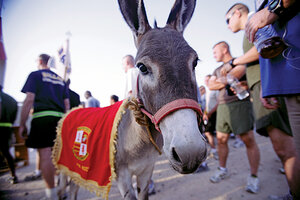 Courtesy of US Marine Corps/File
It's probably safe to say that Smoke is the most sought-after donkey in Iraq.
Two years after he wandered onto a US military base west of Baghdad and won the hearts of the men stationed there, he's landed at the center of a cross-cultural custody battle involving marines now back in the United States, a sheikh, and an Iraqi family that has demanded $30,000 to give him up.
It's unclear who the skinny young donkey originally belonged to. But for the Marine logistics unit that adopted him in 2008, patching up the cuts on his legs and face and nursing him back to health, he quickly became part of their family.
Fathers bonded with children they hadn't seen in months by e-mailing photos of Smoke. Children who grew up with the movie 'Shrek,' which features a talking donkey, sent Smoke cards, letters, and care packages with donkey treats. The military made an exception to its ban on pets, officially declaring the gregarious donkey a working therapy animal.
"Marines aren't all tough guys with hard hearts – we're suckers for kids and animals," says retired Marine Col. John Folsom, who was commandant of Camp Taquddam in Anbar Province when Smoke showed up.
---