Why Ahmadinejad is dismissing high-level Iranian officials
Many critics say a number of personnel changes by Mahmoud Ahmadinejad have to do with the growing influence of one of his closest aides, Esfandiar Rahim-Mashaei.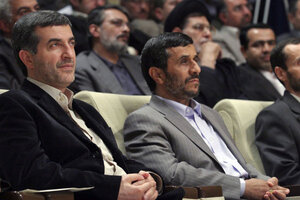 Yalda Moaiery/Reuters
As a loyal follower of Iran's hard-line President Mahmoud Ahmadinejad, the young head of the National Youth Organization had every reason to expect his string of high-profile jobs would continue.
Yet Mehrdad Bazrpash has been summarily fired. Reports from Iran early this week confirmed that Mr. Bazrpash, whose ideological beliefs mirror the president's and who has often sharply attacked Mr. Ahmadinejad's critics, was sacked by the very man that made him.
It is one of a number of abrupt personnel changes by Ahmadinejad – including the firing last week of Foreign Minister Manouchehr Mottaki – that have elicited complaints from allies and critics alike about the president's "tribal" and imperious style, and the overt influence of one of his closest aides.
Critics point to Esfandiar Rahim-Mashaei, the presidential chief of staff whose daughter is married to Ahmadinejad's son, as having too much influence on Ahmadinejad.
But despite widespread criticism of Mr. Rahim-Mashaei, including from Iran's top clerical authority, Ahmadinejad has appointed him to a host of senior positions. And Rahim-Mashaei's profile has only grown, recently augmented by an official diplomatic visit to Jordan last week, which added to speculation that Ahmadinejad sees him as a future presidential contender. Rahim Mashaei denies the speculation.
---