Why millions in US aid may help few Iraqi refugees in the end
New Jordanian schools, built in part with US aid for Iraqi refugees, may end up serving few Iraqis. But some say that's OK – Jordanians often needed more help.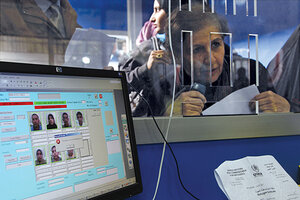 Khaled al-Hariri/Reuters
Jordan, one of two main destinations for Iraqis displaced by the US-led war, has received nearly $400 million in aid designed to help as many as 1 million Iraqis reported to have fled there. Much of the aid came from the United States and went to the Jordanian government directly.
The idea was that donors would help Jordan, and Jordan would help the Iraqis.
But it's now widely recognized that the actual number of Iraqis in Jordan is vastly smaller than originally thought. The inflated numbers mean more aid went to the Jordanian government, and some argue that that prevented the Iraqis from getting effective assistance.
"We could have dealt with 50,000 refugees, who had very little, much more effectively, provided the funding had been appropriate," says Harriet Dodd, who was country director for CARE International in Jordan during the crisis.
Indeed, many nongovernmental organization workers, academics, and independent researchers now say that the aid has failed to provide the help Iraqis needed, while significant funding went to programs that suited Jordan's national priorities – and thus, some argue, it aided Jordanians more than Iraqis.
Officials from the US Agency for International Development (USAID) counter that building up local institutions like schools, hospitals, and water systems is the only effective and fair way to help the Iraqis.
A 'revolutionary' school
A prime example is a school in Dahiet Amir Hasan in East Amman being built with help from USAID. It is only half finished, but it's clear that it will be offering a very different kind of education from that offered at Jordan's other government-run schools.
---