Israel hotel demolition escalates fight for East Jerusalem
The Shepherd Hotel demolition is at the forefront of a Jewish effort to settle East Jerusalem that opponents charge could preclude the formation of a Palestinian state with a capital in the holy city.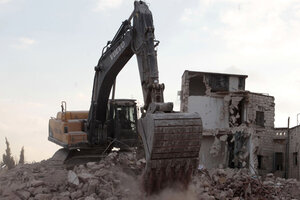 Baz Ratner/Reuters
The demolition of an East Jerusalem hotel to make way for Jewish homes in a predominantly Palestinian neighborhood has sparked concerns from Europe to Egypt, which suggested a new intifada could break out as a result.
The Shepherd Hotel project will bring only 20 Jewish homes to Sheikh Jarrah, but it is at the forefront of a broader, intensely controversial Jewish campaign to establish a foothold in Arab neighborhoods circling the heart of Jerusalem.
RELATED: Sheikh Jarrah shows intensifying battle for control of Jerusalem
Proponents see the efforts as a way to secure Jews' rightful claims to the city as their "undivided and eternal capital." Opponents, including much of the international community, say such efforts will preclude the possibility of creating a Palestinian state with a capital in East Jerusalem, thus rendering the two-state solution null and void.
"If current trends are not stopped as a matter of urgency, the prospect of east Jerusalem as the future capital of a Palestinian state becomes increasingly unlikely and unworkable," wrote 25 consuls-general from European Union member states in Jerusalem in a new confidential report obtained by the Independent. "This, in turn, seriously endangers the chances of a sustainable peace on the basis of two states, with Jerusalem as their future capital."
History of the Shepherd Hotel
---