Iran nuclear talks: What's on the table, what's at stake
Iran nuclear talks began in Istanbul today with topics that could include a revamped version of a nuclear fuel swap deal and ongoing sanctions.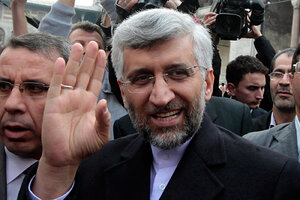 Osman Orsal/Reuters
With its nuclear program under fire, Iran sat down at the table with world powers today in Istanbul for talks with an uncertain agenda and uncertain chances of a breakthrough.
Expectations were low but the stakes high in only the third set of such high-level talks in 16 months.
"The positions of neither side have changed fundamentally," says Elahe Mohtasham, an Iran nuclear specialist recently with the Foreign Policy Centre in London. "Iran continues to use these talks as a way of furthering its overall strategic objective [and] the US position that Iran must stop its enrichment program … hasn't changed."
Iranian media presented the talks as pushing Iran's "security agenda … rather than specifically talking about nuclear issues," says Ms. Mohtasham. Such reports have not shown "any positive way forward, in the way the West would define [it]. There is no sign that Iran is going to stop its enrichment program. There is no sign that Iran is going to step back from any of its activities."
The distance between the two sides was evident even at the close of the last round of talks in Geneva in December.
---