Ahmadinejad: lift sanctions to boost Iran nuclear talks
The first round of talks on Iran's nuclear program in 14 months yielded defiance from Tehran, frustration from the P5+1 countries, and an agreement to meet again in Istanbul in January.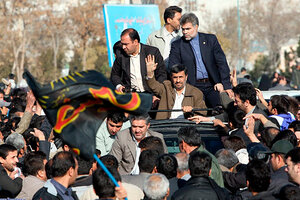 President.ir/Reuters
The glacier that is Iran's nuclear talks with world powers moved an inch forward in Geneva on Tuesday, with an agreement to meet again in Istanbul by the end of January.
But the first face-to-face discussions in 14 months between Iran and major world powers concerned about its nuclear program yielded little else but an airing of views, according to Iran's chief negotiator.

The "only outcome," Saeed Jalili stressed, was agreement on the eight words that will be the framework for the next meeting: "Talks based on cooperation to find common ground."
And yet within moments of the conclusion of the talks in Geneva, it was clear that Iran's broad interpretation of the contents of the next round – sweeping up everything from Israel's undeclared nuclear arsenal to "efforts" by unnamed countries to "monopolize" resources and power – was at odds with that of the P5+1 (the US, Russia, China, Britain, France, and Germany).
---