How revolt sparked to life in Tunisia
One of the most repressive Arab regimes, Tunisia was thought to be less prone to revolt than its neighbors. But economic, social, political, and demographic currents converged to create a combustible atmosphere.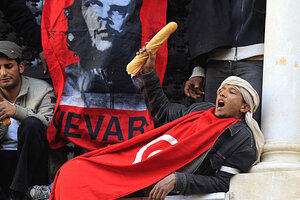 Zohra Bensemra/Reuters
Sidi bouzid and Tunis, Tunisia
If Tunisia seemed an unlikely place for a revolution, the dusty provincial town of Sidi Bouzid might have seemed the unlikeliest epicenter of a quake that would rock the Arab world.
It lies in Tunisia's interior, far from the glittering coastal resort towns that now attract more than 6.5 million tourists every year. On the three-hour drive from cosmopolitan Tunis, the rolling verdant hills of olive groves give way to a flat expanse of rocky soil broken by cactus hedges.
It was in this small city, where paint peels off the low-rise buildings and dozens of young men loiter on the sidewalks and in cafes, that the revolution began.
On Dec. 17, Mohamed Bouazizi – a young man whose fruit and vegetable cart had been taken by police for lack of a permit – stood in front of the peach-colored wall of the local governor's office, poured gasoline over himself, and struck a match.
His self-immolation might have gone unnoticed, or led to a few protests before being crushed by Tunisia's police state.
Instead, Mr. Bouazizi's act ignited demonstrations that spread throughout Tunisia's interior, and then to the capital. The government's violent crackdown, broadcast through social media, fueled public anger. Less than a month later, the mass popular uprising forced one of the Arab world's strongest autocrats to his knees. Zine El Abidine Ben Ali fled to Saudi Arabia, shattering the silence he had imposed on Tunisians for 23 years.
---