Turkey releases report on flotilla incident, accusing Israel
Turkey publicizes its internal report on the flotilla debacle in response to Israel's Turkel Commission investigation report on Sunday.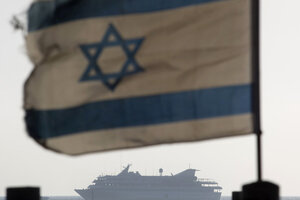 Ariel Schalit/AP Photo
Antagonism between Turkey and Israel is being reinvigorated as each nation's report about the lethal storming by Israeli commandos of the Mavi Marmara ship last May is made public.
Eight Turks and an American citizen of Turkish descent were killed during the 4:26 a.m. raid on the humanitarian aid flotilla, which was cruising 72 miles off the coast in international waters on its way to break Israel's Gaza blockade.
The Turkish report found that Israeli units shot dead two people from their helicopters before fast-roping onto the deck, where they battled passengers armed with sticks, clubs, and knives mostly drawn from the ship's eight kitchens.
What Turkey found
Turkey's report on the incident was submitted to a United Nations investigation last September, but is now being made public after Israel on Sunday published its own report, which cleared the Israeli military and government of any wrongdoing.
"The attacker can't claim that he is defending himself," a senior Turkish foreign ministry official said Tuesday. "Our aim was not to demonize Israel or the Israeli people [or] to tarnish the Israeli nation…. But Israel has not come to terms with their injustice."
The report of Israel's Turkel Commission – which is to be the basis of Israel's findings for the UN investigation – affirms Israel's official declarations that its units killed in self-defense. Turkish officials have dismissed it as "flawed" and a "whitewash."
Outrage in Turkey over the incident has deeply damaged Israel's relations with one-time close ally Turkey, which has demanded an apology and reparations.
---