Why Palestine papers didn't spark outrage against Abbas's government
But the Palestine papers published by Al Jazeera have further dented Abbas's already low credibility, calling into question his ability to negotiate a lasting peace deal.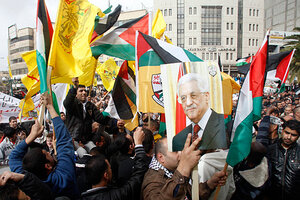 Abed Omar Qusini/Reuters
With the winds of anti-government sentiment spreading across the Middle East, Al Jazeera's leak of the Palestine papers this week threatened to undermine the increasingly weak Palestinian Authority president, Mahmoud Abbas.
The news channel's exposé of far-reaching Palestinian peace concessions to Israel on Jerusalem, refugees, and borders failed to spark outward public outrage, spurring relief among President Abbas' aides. But the muted response of everyone from shopkeepers and businessmen in the West Bank belies a deeper erosion of support for Mr. Abbas, who has staked his career on negotiating peace with Israel.
While the West has embraced Abbas's willingness to make concessions such as those outlined in the recently leaked documents, he has struggled to gain the same credibility in Palestinian eyes as his predecessor Yasser Arafat, the revolutionary guerrilla who fought for a Palestinian state for decades.
---