ElBaradei to US: Take Egypt's Mubarak off life support
Egyptian opposition figure Mohamed ElBaradei urged President Obama on Sunday not to be the 'last one' to withdraw support from Egyptian President Hosni Mubarak.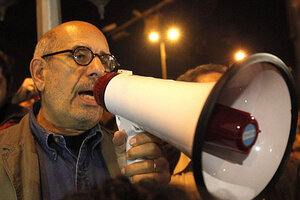 Asmaa Waguih/Reuters
Mohamed ElBaradei, the Egyptian Nobel Prize winner who says he has a mandate from Egypt's opposition to negotiate President Hosni Mubarak's withdrawal from power and the creation of a transitional government, urged the US to turn its back on long-time ally Mr. Mubarak in a series of television interviews earlier today.
Dr. ElBaradei, who joined thousands of protesters in Cairo's Tahrir Square in the early evening, said the time has come for the US to stand with Egypt's protesters.
"The American government cannot ask the Egyptian people to believe that a dictator who has been in power for 30 years would be the one to implement democracy. This is a farce," he said on CBS's Face the Nation. "The first thing which will calm the situation is for Mubarak to leave, and leave with some dignity. Otherwise, I fear that things will get bloody. And [the US] have to stop the life support to the dictator and root for the people."
Earlier today, Secretary of State Hillary Clinton had called on the Mubarak government to embrace political reform and respect the Egyptian people's calls for democracy. In the mid-afternoon in the US, Reuters reported that President Obama called other world leaders to discuss supporting an "orderly transition" in Egypt.
---