For many foreigners fleeing Egypt, a chaotic and tense exit
More than 1,800 Americans have evacuated from Egypt and another 167 were reportedly waiting to leave Cairo's airport today as violent clashes continued.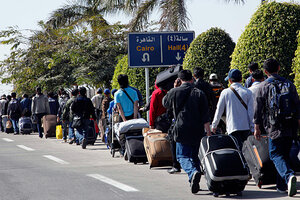 Victoria Hazou/AP
With violence erupting in Cairo's streets, many foreigners are clamoring to get out of Egypt. Some are being evacuated by their home governments while others, frustrated by responses from embassies, are booking their own flights or opting to stay.
More than 5,000 people are reportedly waiting in the Cairo airport for a flight out amid the escalating unrest. Hundreds of people have been injured and at least 10 killed since Wednesday, when supporters of President Hosni Mubarak clashed with antigovernment protesters in central Cairo's Tahrir Square.
Justin Martin, one of some 1,800 Americans evacuated over the past week, knows first-hand the feeling of helplessness in attempting to flee. The professor at the American University in Cairo says that he and his wife might still be Cairo if he didn't have a friend with embassy contacts who tipped him off to US government-chartered flights preparing to leave.
"We had no communication with the embassy whatsoever," he said in a telephone interview Wednesday from Athens, where a Jan. 31 evacuation flight had taken him and his wife. The embassy's emergency hotline referred callers to a website, he says, even though Internet had been out for several days at that point. There was no answer on the embassy phone lines.
---