Foreign journalists targeted in Egypt rage: An inside look
The friendly Cairo familiar to Monitor correspondent Kristen Chick has transformed into a hostile environment where journalists are targets of suspicion, abuse, and detention.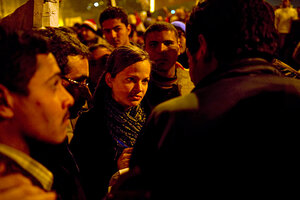 Ann Hermes/Staff
The Egyptian government launched an all-out attack on foreign and domestic journalists Thursday, detaining, beating, and harassing those trying to cover the violence unleashed on peaceful democracy protesters.
But the threatening atmosphere has been building for several days leading up to the assaults. The friendly Cairo that I know and am accustomed to working in was transformed into a newly hostile environment beginning Tuesday.
That day, protesters at a massive rally in Tahrir Square against President Hosni Mubarak warned me of reports on Egyptian state television that foreign agents were infiltrating Egypt, posing as journalists.
IN PICTURES: Exclusive Monitor photos of Egypt's turmoil
As I returned home from the protests late that evening, a soldier at an Army checkpoint demanded and pored over the passports of myself and Monitor photographer Ann Hermes. When our driver asked if that was really necessary for two "respectable foreigners," the soldier raised his eyebrows.
"Yes, it is," he warned as he leaned closer to the driver and lowered his voice. "They have stopped some foreigners who were taking pictures. They checked their IDs, and they weren't journalists. It's very bad."
---