Mubarak steps down. What comes next for the Egyptian revolution?
Mubarak stepped down 18 days after a leaderless revolution emerged in Cairo to press for the end of the president's 30-year reign. Now the matter of leadership becomes much more pressing.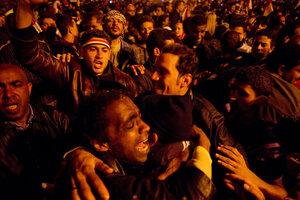 Ann Hermes / The Christian Science Monitor
The unprecedented popular uprising that drove Egyptian President Hosni Mubarak from power after nearly 30 years may have been kick-started by a few activists.
But it succeeded in large part because it became a grass-roots movement that could not be contained, negotiated with, or controlled through a few leaders.
Over 18 days of protests, Egyptians of every stripe coalesced at Tahrir Square with a single unifying demand: Mubarak must go, now.
Now the matter of leadership becomes much more pressing. In the weeks and months ahead, prominent forces in Egyptian society – from the military to ruling party members to prominent businessmen – will be seeking to massage events in their favor.
The Muslim Brotherhood, Egypt's best-organized opposition group, will certainly have a voice. Mohamed ElBaradei, the former head of the UN nuclear watchdog who has become a prominent advocate for democratic reform, will be seeking one, too.
The protesters have been split over what comes next. Is Mr. Mubarak stepping down sufficient or is full regime change required? It is too early to tell whether the coming weeks will yield real democratic reform.
'It's like a dream'
On Friday, thousands marched near the presidential residence, previously a sacrosanct no-go zone, and tens of thousands converged on the radio and television building – the nerve center for state propaganda – leaving regime mouthpieces trapped and frightened inside.
---