Yemen, awash in guns, wary about unrest
Yemen has the highest guns-per-capita ratio in the world after the US. Tribesmen – some of whom have camped out in Sanaa's Tahrir Square – are widely said to have grenades, mortars, and even a rare tank.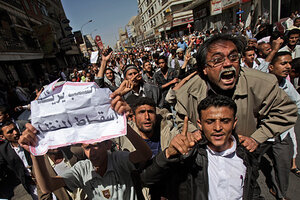 Muhammed Muheisen/AP
As Yemeni protests escalate, tribesmen from rural parts of the country have come to Yemen's own Tahrir Square. But despite sharing the same name as the epicenter of Egypt's revolution, this central square in Sanaa has yet to attract throngs of antigovernment protesters – perhaps in no small part because the tribesmen occupying it are armed.
They're not the only ones carrying guns, however. In Yemen, which has one of the highest guns-per-capita ratios in the world and a weak central government, the Kalashnikov has become emblematic of masculinity, the size of one's weapon cache synonymous with power.
"Shame on a man who leaves his house without his gun," says Sinan Abo Zeid, a native of Yemen's northern border province Al Jawf, where men are known to pay for their cars' gasoline in bullets whenever they don't have enough cash. "In Al Jawf, the Kalashnikov is the government."
As Yemen has become more volatile – a state headed toward failure, where it's unclear who would fill the power vacuum that could follow – the number of weapons slung across men's shoulders and stashed in tribal outposts is increasingly seen as problematic.
"There are dangerous risks that these weapons will get into the hands of the wrong people," says Sultan al-Atwany, a member of parliament (MP) from the opposition Nasserite party. "This is a big security risk in Yemen."
Grenades, mortars, and an odd tank
Due to a history of internal conflicts and international meddling, Yemen has 60 guns per 100 people – second only to the United States, according to a report conducted in 2007 by the Small Arms Survey, a Geneva-based independent research project.
---