Yemen students to politicians: Don't hijack our revolution
Yemen's political opposition joined youths on the streets of Sanaa for the first time today, but many young people see leaders as trying to tap their movement for the wrong reasons.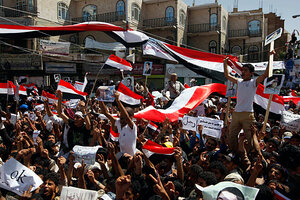 Ammar Awad/Reuters
Yemen's political opposition officially joined youth protesters on the streets of Sanaa for the first time today, swelling the size of the demonstration but also raising fears that the students' revolution would be hijacked for political purposes.
Yemen's coalition of opposition parties, the Joint Meetings Parties (JMP), deemed today a 'day of rage' – even though Yemen has already had two such days in the past month. But the only leading JMP representative was Abdul Majeed al-Zindani, a man who had close ties with President Ali Abdullah Saleh until suddenly renouncing him yesterday.
Mr. Zindani's loquacious speech about the return of the Islamic caliphate drew many followers of his Islamist Al Islah party, but it had little to do with the demands of the student movement.
Despite demonstrators yelling a periodic "Amen" to his speech, Zindani is seen as a prime example of how politicians and tribal leaders are trying to utilize the youth movement for their own aims, unconnected to students' largely secular demands for an end to corruption and oppression. Many of the young people who are the heart of this grassroots protest movement are adamant that political parties and rivalries have no place in their revolution.
"There is serious concern that a tribal-religious alliance might hijack the revolution, but until now we still don't see it," says independent Yemeni political analyst Abdul-Ghani al-Iryani, who said he thought Zindani was joining the protests simply to be on the winning side in Yemen's current shaky political climate.
---