Qaddafi loyalists denounce Libyan rebellion as refugees continue to flee
Libyans and foreign workers continued to stream across the border with Tunisia Wednesday as Muammar Qaddafi characterized the rebellion as fueled by Al Qaeda.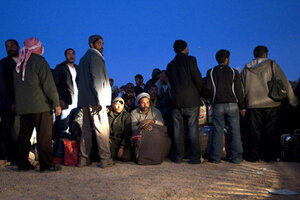 Giorgos Moutafis/AP
Ras Ajdir, Tunisia-Libya Border
A handful of pro-regime loyalists waving green flags and kissing portraits of Muammar Qaddafi arrived at Libya's border with Tunisia Wednesday, marking territory with sirens blaring and fists raised as government forces sought to beat back rebels at points across northern Libya.
The parade of a couple dozen Qaddafi loyalists proclaimed Libya's pro-democracy uprising to be a myth and that peace prevailed across Libya with "no problems," despite ample evidence that large portions of the country remain in the hands of antiregime forces.
The Libyans handed out water, juice, and chocolate-covered cakes to hundreds of Bangladeshi workers – the tail end of an exodus of more than 86,000 foreign workers to have escaped the upheavals across this remote border into Tunisia.
The surreal scene was made-for-television propaganda, as journalists stepped through the gate into Libya to talk to the mix of border guards and young Libyan men. But the symbolic value was not lost on a day when Qaddafi appeared to be trying to reverse opposition gains against what he calls an Al Qaeda-driven insurrection by drug addicts.
"I am from free Libya, I am a happy Libyan," says Ahmed Washifane, who wore close-cropped black hair and a green scarf – the color Qaddafi chose a decade ago for the national flag.
"No Libyans have crossed, no Libyans leave. Libyans are … Qaddafi," Mr. Washifane says, stopping mid-sentence to kiss the scarf as a burst of emotion overcame him
---